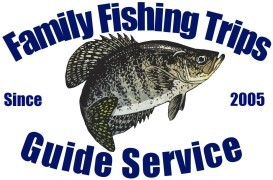 I provide all the bait and tackle needed for your fishing trip. Fishing licenses are the responsibility of the angler and can be purchased locally or at www.agfc.com. You will want to bring a small cooler with snacks and beverages of your choice. All the fish we keep will be filleted and packaged for you. Picture taking and fish filleting is included in your fishing time. We can fish longer if want to take and clean your own. Dress appropriately for the weather conditions and bring a hat and polarized sunglasses no matter the time of year. All trips start at first light unless I otherwise specify. I crappie fish spring and fall and chase white bass and hybrid striper in summer and winter. I use a variety of presentation methods like long poles with slipcorks and minnows, casting jigs, swimbaits or topwater and trolling crankbaits and A-rigs. The manner in which I fish is simple and effective, enjoyed by all from the novice to the seasoned angler and the action is usually hot.
Reservations are made in the order payment or deposit is received.
Trip Rates
1-2 Person Charter - $600.00
3-4 Person Charter - $700.00
5-6 Person Charter - $900.00
(kids 12yo and younger don't count in the cost of your crew number)
(3-4 adults fish comfortably)
(5-6 should include small bodies/children)
A $200.00 non-refundable deposit is required to reserve any trip. If a trip is cancelled due to unpredictable circumstances like weather, your deposit will be retained for 1 year allowing adequate time to reschedule. Anglers 16yo and older are responsible for their own Arkansas Fishing License. Licenses can be purchased locally or via www.agfc.com
Check my CALENDAR for available days and make your reservation online.
GUARANTEED CATCH
If we don't catch your dinner, you get a BOGO coupon.
(Book one, Get one)
The next time you book a full-priced trip, you get a second day for FREE
Guarantee valid only with full-priced trips and you follow my recommendation
Not valid in the months of July, August and September
No additional taxes or charges for bait, tackle, fuel or other supplies.
Picture taking and filleting your fish is included and part of the trip time, unless you wish to take and clean your own.
Trips are exclusive to one party up to six people or 1,100 pounds of passenger weight.
Fishing licenses are not provided but can be purchased locally or by visiting the Arkansas Game and Fish Commission website or call 1-800-364-4263